A Unique Northern Ontario Fishing Lodge
At Monetville Tavern and Lodge, our fishing lodge on Lake Nipissing provides comfortable accommodations for both fisherman and adventurer alike.   Located on the western arm of Lake Nipissing, the fishing lodge offers complete lodging, private cottages, and camping.
A Home Away!
Our main fishing lodge contains comfortable hotel rooms with full housekeeping services. Our friendly hosts will make you feel comfortable and welcome, and assist you in any way they can in order to make your stay a memorable one.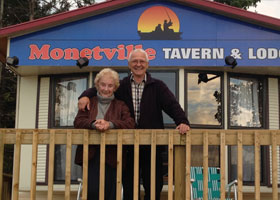 The fully licensed lodge dining room serves home-style meals that will appeal to your appetite and fuel you up for a fun-packed day of exploring and activity.
Excellent Value for Your Money
The Monetville Tavern and Lodge is still the best value for your money. Not only do our newly renovated rooms and facilities come with exceptional service, our prices are difficult to beat.  We may not be the cheapest, but then, the cheapest of accommodations are usually not a good bargain. When comparing apples to apples, we can honestly say the best value for your money is the Monetville Tavern and Lodge.  Your stay with us will have you coming back again and again.  See what guests have to say and check out our rates.
Your Adventure Outpost
When it comes time to embark on your adventures for the day, we can help you get pointed in the right direction. We are surrounded by opportunities for hunting, fishing, water sports, golf and much more. In the winter, ice fishing and snowmobiling are also available.
• Boat rentals available
• Bait, tackle, dockages
• Canoe and paddle boat rentals
• Shuffleboard, pool table, arcade games
• Nearby air transport
• Clean, safe beach
• Snowmobiling on groomed trails
• Custom rental packages