A Trek On The Wild Side
At Monetville Tavern and Lodge, you can rediscover the rugged lifestyle with our hunting packages. You and your hunting party will experience all the comforts of home with one of our cabins as your home base. After a long day of trekking and tracking, you can enjoy a hot shower, a hot meal and trade stories about your day of adventures.
The Bear Necessities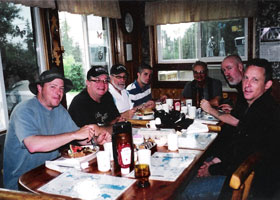 Bear are plentiful in the Lake Nipissing district. The unspoiled wilderness is home to thriving numbers of wildlife, helping make your hunt successful. We have 10 bear stands available for your use, and bear baiting is available upon request. After your hunt, you will have access to our cleaning facility, equipped with hoists, and a cooler for storing your catch. You'll bring home a trophy to brag about.
Safety First
Don't forget these mandatory items:
Ontario hunting license
Orange / reflective safety wear
Firearms Declaration Form (if bringing firearms into Canada from the U.S.)
Visit Hunting Ontario for licenses, form, regulations, maps and any other hunting information