Wild Winter Adventure
At Monetville Tavern and Lodge, we know that our guests love winter adventures, too! With less snowfall in the southern areas of the province, avid snowmobile enthusiasts are hitting the spectacular trails that lead right to our door. Over open ground and through forest trails, the powder-perfect snow will keep you entertained for a full day of riding.
Ontario Discovery Routes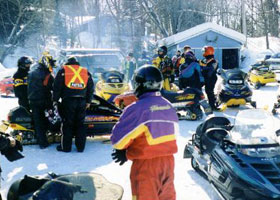 We are located in District 11 of the Near North Trail Association. That means 3,500 km of interconnecting and scenic trails for every level of rider ability. Numerous fuel and rest stops are available along the trails in an effort to keep you safe, warm, and enthusiastic about your winter adventures. The D103 and C103 trails are available right by our front door!
For more information and trail maps, visit:
*OFSC Trail Permits may be required