Tubing, Boating, Swimming and more …
The property of Monetville Tavern and Lodge includes a safe, clean beach for your waterfront fun. On or off the water, you can enjoy the lake in an endless number of ways. Water, sun and sand are all you need for a full day of fun.
Beach Fun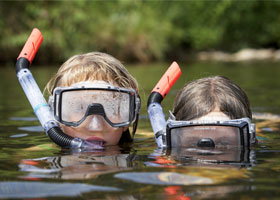 Wade in and enjoy the shallow sandy bottom, go for a swim, build a sandcastle, or work on your tan. Chase crayfish and minnows. Dig in the sand and bury a friend. Or just sit and listen to the peaceful sound of the gently lapping water while you nature watch.
Water Sports
For those who like being out on the water, we have two speeds: the scenic lake drift and high speed action. A scenic lake drift can be experienced by paddleboat, canoe (available for rent) or your portable floatie. High speed water fun can include waterskiing, sailing, tubing or just zipping around in the boat. We also have motor boats available for rent with all safety equipment.
Don't forget your water toys, suntan lotion and swim suit!