Fishing the West Arm of Lake Nipissing
Fishing Lake Nipissing is a fisherman's dream come true.  The Lake Nipissing District is home to more than 40 species of fish. Muskie, Walleye, Northern Pike, Bass and Trout are just a few of the spectacular catches you can get your hooks into.  The West Arm of Lake Nipissing has approximately 18 miles of waterways where fishing is ideal as the entire arm is easy to navigate as there no rapids or chutes.   The waterways are made up of crystal clear water for excellent fishing from spring through fall.
Fishing Fun For Everyone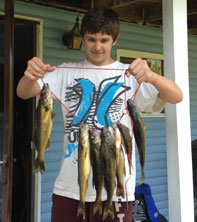 You won't have to go very far to find your catch-of-the-day. Our fishing lodge and cottages are located right next to the docks – your launching point to a great day of fishing. Relax in peaceful serenity with your line in the water, or spend the time passing on your casting technique to the kids. Then, revel in the excitement of reeling in that prize winning specimen.
The shallow and rocky coastline of the West Arm of Lake Nipissing is filled with many channels, weeded bays, and narrows – the perfect breeding grounds for your fishing pleasure. You'll find boundless opportunities for the perfect fishing spot. At day's end, you can fire up the barbeque and feast on your bounty!
Available for your fishing trip:
Dockage
Fishing boat, motor rentals
Transit trailers
Bait, tackle and other fishing equipment available in limited supplies
Ice
Fish cleaning available upon request
* New – A fishing guide is available upon request
Spectacular Fishing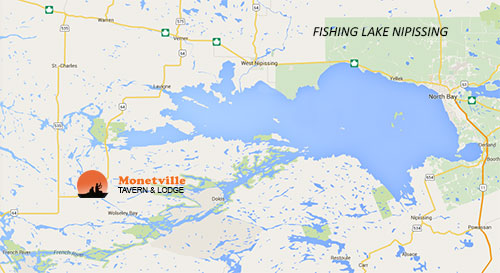 Monetville Tavern & Lodge provides some of the best fishing on Lake Nipissing.  Our lakeside cottages are clean and modern for families and small groups.  Our cottages are also winterized so we are well equipment for ice fishing, snowmobiling, or just a winter get-a-way.
When fishing Lake Nipissing, a surprise awaits each cast.  Musky, pike, walleye, bass are so plentiful you just never know what to expect.  Northern pike are abundant in so many sizes. Musky catches have weighed in at more than 5o pounds and the tasty walleye caught here can weigh up to 8 pounds.  The average bass weigh approximately 2 to 3 pounds.  Other fish species include perch, sturgeon, sunfish, rock bass, drum, and gar pike.
If you're short on gear, not to worry. We have fishing equipment for rent, including boats, boat motors, trailers, bait and tackle. Heck, we'll even clean the fish for you if you want!
Don't Forget Your Fishing License and Safety Equipment!

Need a fishing license or Ontario Outdoors Card? Visit Fishing Ontario for rules, license forms and any other information you may need.