A Place To Get Away
The entertainment at Monetville Tavern never ends. Sometimes we provide the entertainment, and sometimes you do. No matter who is the center of attention, you can be assured that you will have a great time relaxing and sharing experiences with old friends and new friends.
Eat, Drink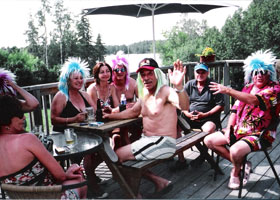 Our fully licensed tavern is the place to start your day with a full and hearty breakfast made to order. Fuel up for your day of wilderness adventures.  Then when your day of exploring is over, sit with us and forget your diet – you won't want to overlook one delicious morsel of our home-style cooking.
Be Merry
In the evenings we often have live entertainment for you to enjoy with friends and drinks. But you better come early – the seats fill up fast and you won't want to miss a thing.